Full Arch Options "All on Four"
Full arch options, commonly known as "All-on-Four" or "Pro-Arch" is the solution for patients who want a fixed restoration and would like a more affordable option than the usual 6-8 implants with bridgework. Patients can often have a temporary fixed prosthesis attached the SAME DAY as their implant surgery.
The revolutionary technique allows patients to receive a full fixed (non-removable) bridge on as few as 4 dental implants. Many patients who have been told they are not dental implant candidates due to bone loss may now be able to restore their smiles by utilizing this technique. Most denture patients as well as patients with failing crown and bridgework, and even those with severe bone loss from periodontal disease may now have the option to get their smile back with this technique.
The Full Arch technique uses four or more implants placed throughout the jaw with as wide a spacing as possible. Implants may even be placed on an angle to avoid the sinus cavities in the upper jaw and the nerve canal in the lower jaw. This procedure often eliminates the need for costly and time consuming bone grafting, along with the prolonged healing time which often accompanies these additional procedures.
Today, thanks to the Full Arch technique, it's now possible for patients to have a non-removable bridge placed the SAME DAY they receive their implants, and almost always without the need for bone grafting.
Replacement of A Failed Lower Arch with a Fixed Zirconia Hybrid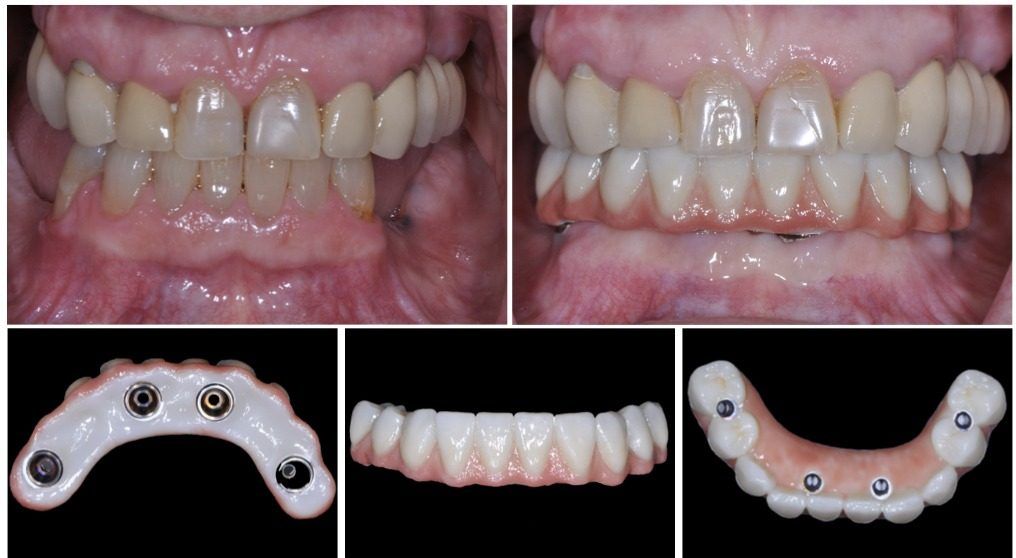 Replacement of Missing Teeth on the Upper Arch with an Implant Fixed Bridge