My name is Jonah Barasz; welcome to our website! We view this as a place where we can share with you our passion for dentistry. We feel so fortunate to have a profession where we can directly help others and make a significant impact in the lives of our patients with regards to their oral health and the way they feel about themselves.
I would like to share with you a little about who I am and why I chose dentistry. I am a proud father of three wonderful daughters, and the faithful sidekick to my amazing wife, Allison. I serve my community in a variety of different ways, including as an officer in the Connecticut Air National Guard. I served previously in the Connecticut Army National Guard for Nine years.
I grew up in Guilford, Connecticut with a father who was a general dentist, however, I didn't originally plan on becoming a dentist myself. My first passion was teaching and I enjoyed the sciences. I thought I might like to be a college chemistry professor. I graduated from Colby College in Waterville, ME, where I received a Bachelor's Degree in BioChemistry. My real success at Colby, however, was meeting my future bride Allison. After graduating, I attended The Ohio State University and earned a Master's Degree in Chemistry. I learned a great deal about myself while I was in Ohio. I learned that I loved engaging with people and learning about their interests and passions. I learned that I loved working with my hands and that I wanted to make a difference in people's lives.
I came back to Connecticut and completed a Doctorate of Dental Medicine, specialty residency training in Periodontics and Implant Dentistry, and Master's of Dental Science degrees at the University of Connecticut School of Dental Medicine (UConn). I completed my Board Certification by the American Academy of Periodontology in the areas of Periodontics and Dental Implant Surgery. I have been humbled by my peers for their recognition of me as one of Connecticut Magazine's "Top Dentists" for multiple years.
I founded Dental Implants and Periodontics of Connecticut, LLC in 2015 after taking the reins of the dental practice built by Dr. Marianne Urbanski. In 2018, Dental Implants and Periodontics of Connecticut, LLC merged with the periodontal practice of Dr. Leif Washer who had previously practiced in Wallingford for over 40 years. In 2020, we moved to a larger state of the art facility to better meet the needs of our patients, and the rapidly evolving discipline of dentistry.  Additionally, in 2020 we added a second location in Waterbury, combining with the long-time practice of Dr. Bill Tarasuk.
I strive to provide a patient-centered approach to periodontal and implant therapy. My team is wholly committed to this approach by listening to each patient's needs and concerns, and taking the time to educate our patients about their treatment. Of particular interest to me are oral rehabilitation, esthetic implant placement, and oral plastic surgery.
I have served as President of the Connecticut Society of Periodontists and the Meriden-Wallingford-Cheshire Chapter of the Connecticut State Dental Association. I look forward to meeting you and for you to meet our TEAM!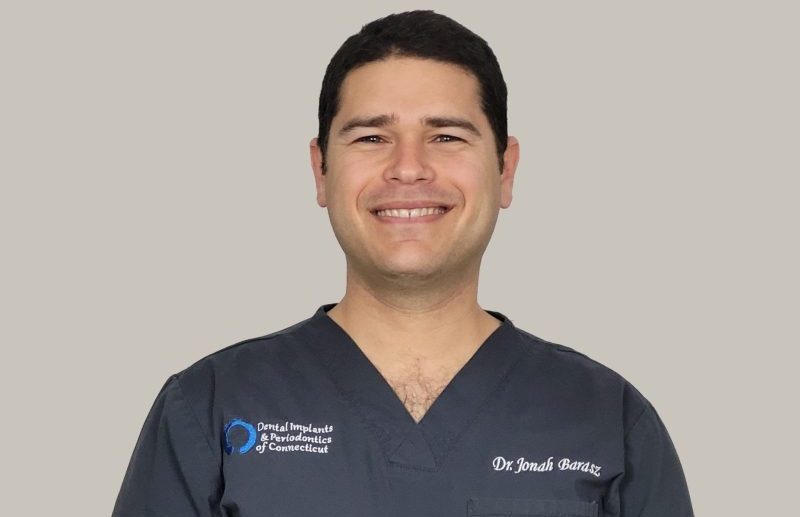 PROFESSIONAL AFFILIATIONS
AND CREDENTIALS
Diplomate, American Board of
Periodontology
American Dental Association
American Academy of Periodontology
Connecticut State Dental Association
Connecticut Society of Periodontists
I am so very happy to join Dental Implants and Periodontics of Connecticut as a member of this wonderful team that is both as conscientious and concerned about patient care as I am. I have been a periodontist since 1977 when I received my certificate of specialty training from Northwestern University in Chicago. In 1978 I opened my own practice in Milford, Ct and still maintain some hours there. During the past 40+ years I have been able to serve in various professional positions including President of the Milford Dental Society chapter of the Connecticut Dental Association on two occasions and as President of the Connecticut Society of Periodontists.
My wife of nearly 50 years and I have a son and daughter, both successful Millennials, and hope to nurture some grandchildren in the near future. My wife and I met at the University of Buffalo and we both grew up in Queens, NY, then traveled to Washington, DC and Chicago before settling in Fairfield, Ct.
My non-dental world is filled with many opportunities to pursue my other passion, photography. I have traveled all around the United States and to many cities in Europe with camera always by my side. I became adept at Photoshop and print most of my own images, enter many contests and have been published in various magazines. Sharing my art is important to me and hopefully provides some joy to my audience.
I certainly love my dental career and hopefully I will be able to express that to our patients as I guide you in a quest for health.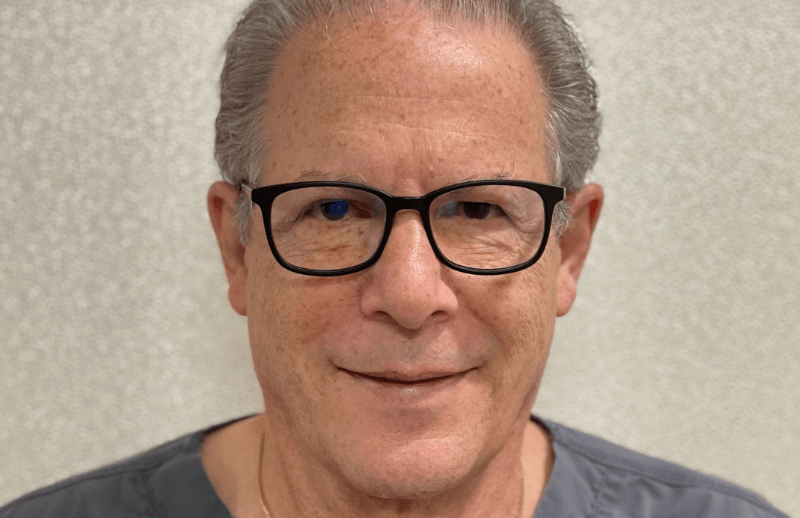 PROFESSIONAL AFFILIATIONS
AND CREDENTIALS
Certificate of Specialty Training
President of the Connecticut Society of Periodontists
Connecticut State Dental Association
Former President of the Milford Dental Society
The People You'll Meet In Our Office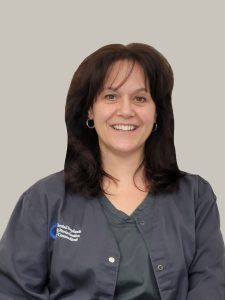 Kerri
Administrative Director
Welcome to our office. Over the years I have had the pleasure to meet so many wonderful people. My role is to work closely with you to ensure you are cared for and comfortable in every step of the process of your dental treatment. I work with your general dentist and coordinate any information that needs to be communicated for a smooth transition from surgical to restorative care.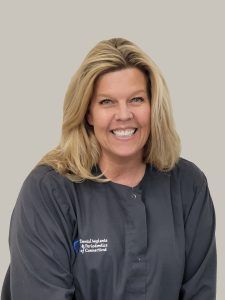 Jody
Treatment Coordinator
As a treatment coordinator I am so excited to work with you towards a happy smile and healthy teeth and gums. I will work closely with you during your dental care and will be your liaison to navigate questions regarding scheduling appointments, post-operative care, as well as financial questions. My goal is for you to have full knowledge and engagement in every aspect of your dental care.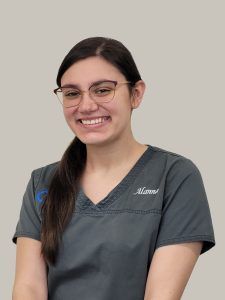 My name is Alanna, and I am one of the friendly faces you see when walking into our office. I joined the team in December of 2020 as a receptionist. Since then, I have enjoyed getting to know our wonderful patients. I am very proud to be a part of our hard-working and kind team!
I am a recent graduate from high school, where I got my video certification. I use this skill to make videos for our office YouTube channel (Dental Implants and Periodontics of CT). I'm also a Meriden native, and I'm currently a part of a Meriden local Concert band that gives the joy of music to the community.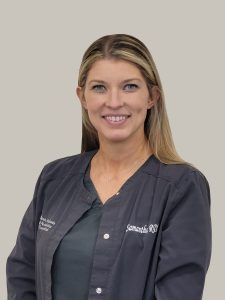 Samantha
Hygienist/Clinical Director
I was born and raised in Eastern North Carolina and have been in the dental industry for over 12 years. I earned my Associates Degree in Dental Hygiene from the University of New Haven where I graduated with honors and was inducted into the Sigma Phi Alpha Honor Society.  I was also the recipient of the prestigious Hu-Friedy Clinical Excellence Award.  I plan to further my education by working towards a master's degree in healthcare administration. As a dental hygienist, I focus on providing personalized, high-quality care to my patients, and together with the team at Dental Implants and Periodontics of Connecticut will formulate a patient centered hygiene care plan that meets all your dental needs.  In my free time, I enjoy spending quality time with my husband and two beautiful daughters.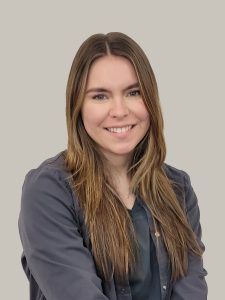 My name is Ally and I started at Dental Implants and Periodontics of CT in August 2021. I was born and raised in Connecticut. I graduated from college with my B.S. in Biology from California. I have always had an interest in dentistry and hope to someday become a dentist myself. In my free time I enjoy working out, being at the beach, and playing with my dog, Zac.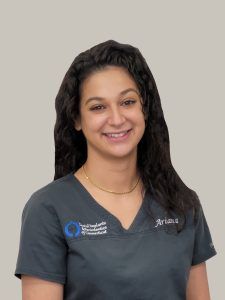 My name is Ariana and I have been with the practice since the summer of 2017. I assist Dr. Barasz in everything from routine visits to intricate surgeries. We are truly blessed with an amazing team of people who love what they do and strive for perfection. I feel blessed to be able to work with them, as well as our fabulous patients!
In my spare time I enjoy hiking and camping. I also love to see live music and have made many friends across the country on my musical adventures. I was born and raised in Connecticut and currently live in the city of New Haven with my dogs Moooch and Aurora.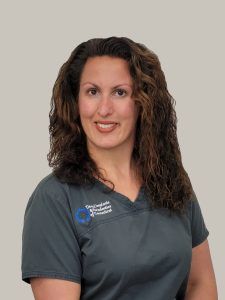 My name is Tina and I have many years of dental experience as a certified dental assistant. I love being part of an awesome team who provides nothing but the best care to all our patients. I could not have been more fortunate to work alongside such professional and compassionate team members every day. When not helping to restore one's periodontal health, I enjoy going on hikes with my boyfriend Bryan and my dog Ellie, volunteering as a Southington Jaycee member, taking spontaneous road trips, and from time to time playing a game of corn hole!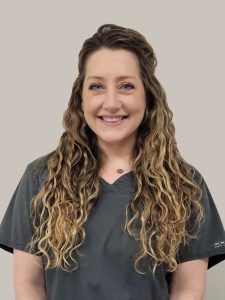 Hi all! I'm Amy. I grew up in Wallingford, CT. and now reside in Watertown with my husband. I graduated as a dental assistant in 2007 and without hesitation continued my education to earn my degree in dental hygiene. What I love most about my career is getting to know my patients one-on-one, and building strong, trustworthy relationships. My philosophy has always been "treat everybody as if they were your family." Outside of work I thoroughly enjoy spending time with my family and friends. I look forward to getting to know you!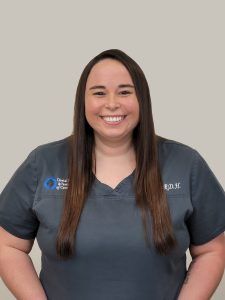 My name's Emma! I graduated with my Associates Degree in Dental Hygiene with a passion for periodontics. I truly enjoy and find gratification in helping the people that really need it and find value in their own oral health.
Joining Dental Implants and Periodontics of CT was the perfect fit for me. I am able to reach my favorite population of patients by providing them with preventative oral care to help them maintain a healthy smile. I love that the rest of the team shares the same patient-oriented goals and together we are able to provide each patient with a unique treatment plan. Outside of the office, I enjoy spending time with my girlfriend, our 3 dogs, and family. I love camping, doing puzzles and adding to my ever-growing collection of houseplants. I look forward to helping you with all of your dental needs!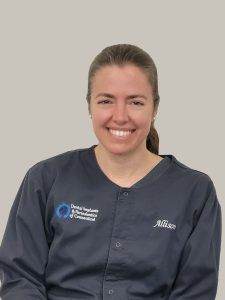 My name is Allison Barasz, and I am the Business Manager. I am originally from Ohio, and I met Dr. Barasz at Colby College in 2001. I officially joined his "team" when we married in 2005. We have been through a lot together - including raising our three beautiful daughters. I have been a part of Dental Implants and Periodontics of Connecticut since the beginning. With my background as an attorney and also in economic consulting, I have been able to contribute in a variety of different ways over the years. I have found my niche in my current role where I work mostly behind the scenes on Human Resources. When not at work, I enjoy playing the piano, Zumba, gardening, and spending time with family and friends.